____________________
The Boneyard is Open from
Sunrise until 10:00 PM Daily
We Have Lights!!


Friends of the Culver City Dog Park THANKS
its Many Donors for their Support
MAJOR DONORS
Bulletin Board in the Small (1) and Large (1) Dog Area
CITY OF ANGELS Veterinary Specialty Center
Bulletin Board at the Boneyard Entrance (1)
VCA Animal Hospitals
Water Fountain (2)
Friends of Adam Sandler

(In Memory of Meatball)
Ann D. Alexander

(Ashley & Alex's Watering Hole)
General Major Donation
Benches
Faith Mantooth, Doggie Central
Shirley Lewis, California Groomin'
American Health Solutions Pharmacy
David, Lynn, Marlowe & Cheyenne Garel (In memory of Dakota-Forever Loved, Forever Missed)
Gretchen Bailey & Brian Zydiak

(Ginger's Bench)
Chelsea Shure & Andrew Lientz

Greenberg & Glusker (2 benches)
Friends of Bonnie Shack (Beloved Mother of Clyde & Tulip)
Jean B. and Ray Cassetta
Shade Trees
Greg Dallal & Family

(In memory of David Dallal & Cubby Bear)

Michele & Mitchell Walman (RE/Max Culver City)
Westfield Fox Hills Shopping Mall
Nestle Purina Pet Care
Hal, Danny & Courtney Klopper; Pam & Jeff Hiserodt (In memory of David & Shirley Klopper)
Pam & Jeff Hiserodt (Always in Our Hearts, Forever in Our Memories: Gene Ð Husband & Father; Dennis Ð Son & Brother; Loved by Pam & Jeff)
Nissan Motor Corporation USA & the FCCDP Board of Directors Jeff Cooper, Dr. Dean Gebroe, Rich Kissel, Emily MacRae, Amy Morgenstern, Peggy Okuneff, Peter Vogel & Michael Whitaker (In honor of Vicki Daly Redholtz)
The Family of Todd Siegal

(In memory of Todd Siegal)
Kathy Lichtman

(In memory of Beverly Violin)
Caroline H. Hanna & Friends

(In memory of Lhasa)
Judy Levitow and Russell Johnston
Kimberly Hoover (In memory of Pongo and Bob)
In Honor of Karen Ibara & Stan Furmanski
Our Sincere Thanks Goes Out To All Our Supporters!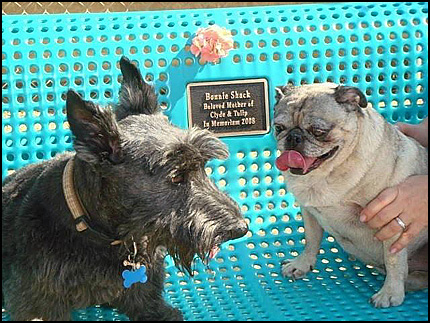 Clyde and Tulip on the bench honoring the memory of their loving mother, Bonnie Shack. This bench was donated in Bonnie's memory by friends, many of whom she met at The Boneyard.